The matter will now go to debate in Parliament

More than 1.3 million people have signed a petition calling for the US President to be prevented from making a state visit to the United Kingdom, in just a few hours.

The UK government responds to all petitions that receive more than 10,000 signatures, and at 100,000 signatures it must consider them for debate in Parliament.

Citing Mr Trump's "well documented misogyny and vulgarity", the petition calls for Mr Trump to be allowed into the country, but not invited to meet the Queen.


At the time of writing on Sunday afternoon, approximately 45,000 people were adding their name to the petition every minute.

Nobel Laureates join academics in protest against Trump's refugee ban

Petition for Trump's tax returns gets record number of signatures

Petition calling for release of Trump's tax returns reaches 2,000,000

"Donald Trump should be allowed to enter the UK in his capacity as head of the US Government," the petition reads, "but he should not be invited to make an official State Visit because it would cause embarrassment to Her Majesty the Queen."

It continues: "Donald Trump's well documented misogyny and vulgarity disqualifies him from being received by Her Majesty the Queen or the Prince of Wales. Therefore during the term of his presidency Donald Trump should not be invited to the United Kingdom for an official State Visit."

The petition met the criteria for consideration by 12.45pm on Sunday after a link was posted on Facebook in just 12 minutes ....... 10,000 signatures. At one point it was signed over 86,000 times in an hour.

Petition data shows most of the signatures came from north, south, and central London, with other hotspots scattered across the UK, including in the cities of Brighton, Bristol, Edinburgh and Manchester.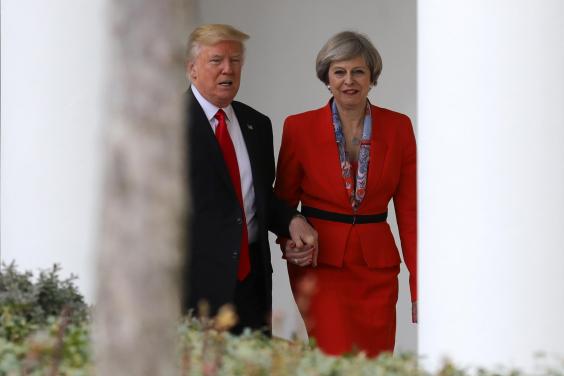 Theresa May visited Donald Trump in Washington on Friday(Getty Images)

The Prime Minister first announced last week, during her visit to Washington, that Mr Trump had accepted an invitation from the Queen to visit the UK later this year.

Theresa May refused three times during her trip to condemn Mr Trump's controversial immigration policy, which bans people from seven Muslim-majority countries from entering the US.

One of Ms May's own MPs, Nadhim Zahawi, said the ban would stop him entering the country. He said he felt demeaned by the policy, adding: "For the first time in my life last night I felt discriminated against."
I
The petition was launched as Labour leader Jeremy Corbyn called for Mr Trump's state visit to be put on hold for as long as the immigration ban is in place.

Just before midnight on Saturday, under considerable pressure from the public, a spokesperson for Ms May released a statement opposing the ban, saying: "Immigration policy in the United States is a matter for the government of the United States, just the same as immigration policy for this country should be set by our government.

"But we do not agree with this kind of approach and it is not one we will be taking. We are studying this new executive order to see what it means and what the legal effects are, and in particular what the consequences are for UK nationals."

Campaigners are currently calling on social media for London to stage the "biggest protest ever" against Mr Trump, if his visit to the UK
does take place.