Frank Gaffney, an extremist Islamophobe who peddles in baseless conspiracy theories, is now a member of President-elect Donald Trump's transition team, the Wall Street Journal reported Tuesday night, signaling a possible hostile climate toward Muslims when the Trump administration takes office on Jan. 20.

According to the Southern Poverty Law Center, Gaffney is "one of America's most notorious Islamophobes" who has "paranoid fantasies about Muslims destroying the West from within." He was one of the loudest voices of those who accused President Barack Obama of being a Muslim — a list that also includes Trump, who for years badgered Obama to release his birth certificate and suggested Obama was Muslim.










View image on Twitter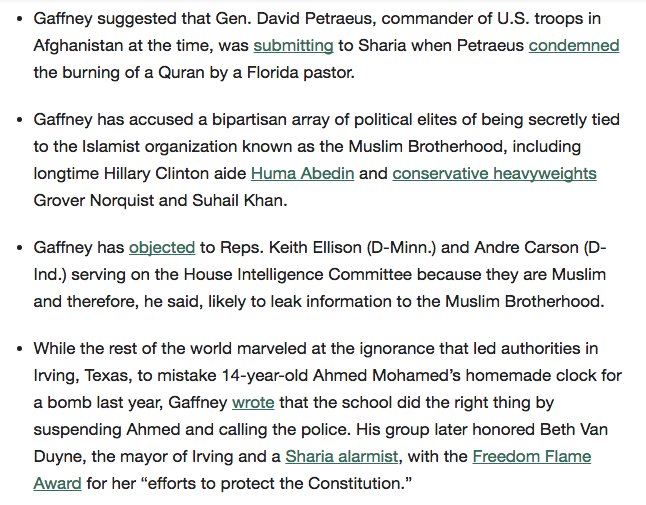 Follow
Sam Stein
✔@samsteinhp

so Frank Gaffney is now reportedly on Trump's transition team. This is Frank Gaffney http://www.huffingtonpost.com/entry/ted-cruz-frank-gaffney-islamophobia_us_56eb11cbe4b03a640a69fc3b …


The news that Gaffney is on Trump's transition team came at the same time as a report that the newly forming Trump administration is considering reinstating a program that would require Muslim immigrants to place their name in a national registry.

The original program, the National Security Entry-Exit Registration System, was disbanded in 2011 after continued outcry from civil rights activists.