Donald Trump's challenge at the second presidential debate of 2016 was to stabilize his campaign after two brutal days of Republican desertions sparked by the release of a damning 2005 video of him making lewd remarks about women.

He attempted to do so not with a show of contrition, but by unleashing a spectacle of defiance with a hovering presence, as well as threats and interruptions that will likely do more to mobilize his devoted base than appeal to skeptical female voters he needs to win the White House.

He told Democratic rival Hillary Clinton she should be in jail despite numerous probes that have ended without charges. He accused her husband of sexual assault, and claimed she was callous toward a 12-year-old rape victim as a lawyer. He twice brought up Sidney Blumenthal, the infamous Clinton confidant who sent her embarrassing e-mails and is a boogeyman of the far-right.

Dedicated Trump supporters would have "loved every minute of this debate," said Kevin Madden, a Republican strategist and former adviser to Mitt Romney in 2012. "Trump's combative approach with Clinton and with moderators who were biased against him is exactly what these voters wanted to see tonight."

But Trump, trailing in most key swing states due to a huge gender gap, did little to broaden his appeal, he said.

"But for voters beyond that group? Very problematic," Madden said. "Trump's problems with suburban women voters will only worsen and the temperament questions will continue to endure."

Clinton's responses were steady and filled with policy details and appeals to a multicultural America, but she was perhaps cautious to a fault in terms of pressing Trump's biggest weakness in the wake of the video: female voters, who she's winning by double digits but not enough to put him away—yet.

Both campaigns were confident their side would win more female supporters thanks to Trump's decision to bring three of Bill Clinton's accusers to the auditorium—and invoke them on stage.

After the debate, Trump surrogates rallied around the idea that Clinton was "rattled" by accusations that she attacked her husband's accusers. "We were really energized," said Trump adviser Peter Navarro. "Donald Trump stepped up," running mate Mike Pence said on Fox News.

Clinton's side, on the other hand, bemoaned the impromptu pre-debate press conference as an awkward stunt that reeked of desperation.

"Her husband is a predator, and she attacked these women," a Trump strategist said. "We will drive this narrative everyday to an entire generation of women that don't know the real Hillary Clinton."

Clinton spokesman Brian Fallon completely disagreed. "Donald Trump is hemorrhaging support with female voters at a historic clip. Tonight's debate will only exacerbate his problem there," he said.

Polls taken immediately following the debate gave Clinton the edge over Trump. A CNN/ORC poll said Clinton won by a margin of 57 percent to 34 percent. A YouGov poll had Clinton as the winner by a slimmer margin, 47 percent to 42 percent. Mexico'speso, seen as an indicator of traders' views on Trump's chances amid his vows to build a wall on the southern U.S. border, traded near the highest level since mid-September before paring gains after the debate ended.

"In the first debate it was pretty clear Hillary Clinton did better than Donald Trump," Peter Kastor, a presidential historian at Washington University in St. Louis, where the debate was held. "In this debate, both were able to get their message out to core constituencies."

But Michael Steele, the former Republican Party chairman, offered a pessimistic take for Trump moments into the town-hall event by tweeting a video of a nuclear bomb detonating, with the caption: "GOP at this moment."

Both candidates launched attacks, but with differing frequency and intensity. Across the whole category of negative nouns—words like "fiasco" or "blunder"—Trump's favorite was "disaster," which he used 18 times to attack Clinton or President Barack Obama. Clinton preferred the milder "mistake," of which two of her five mentions referred to her own e-mail practices.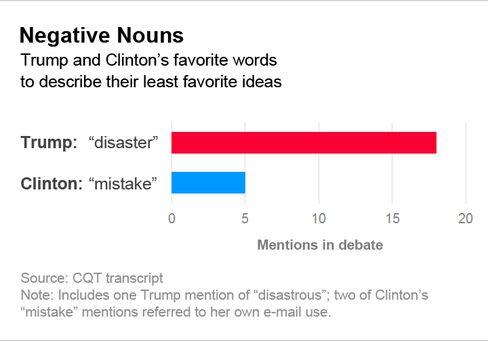 On stage, Trump dismissed his statements in the video about kissing women without permission, grabbing them by the "pussy," and trying and failing to "fuck" a married woman as "locker room talk; I'm not proud of it" but denied he had acted in that manner. "I have great respect for women; nobody has more respect for women than I do," he said.

He quickly tried to switch gears, saying they should be talking about the threat posed by the Islamic State terror group "chopping off heads," and offered his assessment, "This is like Medieval times."

Then he went on to charge that Clinton's primary victory over Bernie Sanders had been illegitimate. Trump told Clinton that if was elected he would have a special prosecutor "look into your situation." He lobbed negative personal attacks on his rival and her husband, of whom he said, "There's never been anybody in the history of politics in this nation that's been so abusive to women."

Trump repeatedly complained that moderators Martha Raddatz and Anderson Cooper gave Clinton more leeway on time and rebuttals than him. "You don't stop her" but "when I go one second over," Trump said at one point.

Trump continued to deny he had supported the Iraq War despite his public statements of support at the time. He said the Muslim-American war hero whose parents he insulted after the Democratic National Convention would still be alive today if he were president because he would never have been sent to fight. He publicly disagreed with Pence's critiques of Russia. Asked repeatedly if his proposed ban on Muslim immigration still stands, Trump declined to answer, saying, "It's called extreme vetting."




Trump bolstered his call to terminate Obamacare with policy details, saying health insurance companies should be allowed to sell policies across state lines, a controversial idea that is popular among conservatives. "We have to get rid of the lines around the state, artificial lines," he said. Seconds later, he accused Clinton of support a single-payer system, which she has not called for during the campaign.



Ryan Williams, a former spokesman for Romney in 2012, said Trump was "steadier on his feet than in the first debate. He's fighting back and hitting Hillary hard, which his base will love."

"And he managed to plow through the discussion about his outrageous leaked video with relative ease," Williams said. "Trump is no Stephen Douglas, but he's clearing the low bar that was set for this debate thus far."

Jeff Weaver, the former campaign manager for Sanders, said the debate was unlikely to affect either base, but argued that Clinton is far enough ahead that a draw makes her the winner.

"He's in a big deficit after the first debate and after the tape came out," Weaver said. "The burden was really on him to hit a home run and I don't think he came close. I don't think there was any movement of his base or of her base either. But he's so far down in the hole and moving in the wrong direction that I think he really needed a killer performance and that didn't happen."

Celebratory and relieved after the debate, Clinton told reporters on her campaign plane just before departing St. Louis, "The most important thing is, we need to take off so that we can actually have some drinks served. My entire team is waiting for this airplane to take off!"