Donald Trump, with Miss Universe entrants, has been widely accused of sexism CREDIT: GETTY

Claire Cohen 27 OCTOBER 2016 • 4:54PM


Fat. Pig. Dog. Slob. Disgusting animal.

These are just some of the names that Donald Trump has called women over the years. Yes, a man who's hoping to become President of the United States and presumably persuade a few women to vote for him, too.

The billionaire has been widely called out for his objectification of women - he has a tendency to criticise them for their looks - and sexist remarks.

Sponsored stories


25 Names Nobody Wants to Name Their Kid AnymoreMooseRoots | By Graphiq
Goldie Hawn and Kurt Russell's Longtime Pacific Palisades Home Up for SaleMansion Global
Recommended by



From saying no one would vote for his former rival Carly Fiorina because of her face to saying women should be "punished" for having abortions and "joking" that he'd date his daughter... you really couldn't make this stuff up.

There are also increasing number of sexual assault claims being made by women, dating as far back as the 1980s - all of which Trump has strongly denied.


If you just can't get enough of Trump-grade sexism, you're in luck. We've rounded up some of "The Donald's" most sexist remarks.

Brace yourself...
1980s: The 'fat picture'

Forme Trump employee Louise Sunshine, who worked from his from 1973-1985, told the Washington Post that the billionaire kept a 'fat picture' of her in his desk drawer, that he would take out when she did something he didn't like.


She said it was "a reminder that I wasn't perfect" and added that she still remembers it today: "When I gain weight, I think of that picture."

The Republican candidate called Sunshine's story "totally false and ridiculous."
1990: When he belittled his wife

In an interview with Vanity Fair, while he was still married to Ivana, Trump said:

"I would never buy Ivana any decent jewels or pictures. Why give her negotiable assets?"


DONALD AND IVANA TRUMP, 1989 CREDIT: KEITH BUTLER/REX/SHUTTERSTOCK

1991: When he called women 'beautiful pieces of ass'

Back when George HW Bush was US President, Trump spoke to Esquire magazine about the media: "You know, it doesn't really matter what [they] write as long as you've got a young and beautiful piece of ass."

He is currently married to 45-year old former supermodel Melania.
1992: 'When he reduced an Olympian to her looks

According to New York Magazine, in November 1992, Trump said that German gold-medal winning Olympic ice skater Katarina Witt was:

"Wonderful looking while on the ice but up close and personal, she could only be described as attractive if you like a woman with a bad complexion who is built like a linebacker".
1992: There are no words

In an interview with New York Magazine ('who keeps letting this guy speak to the press?' asked precisely no one), Trump uttered this charming phrase about women: 'You have to treat 'em like s----'.


Trump embraces Miss USA winner Tara Conner in 2006 CREDIT: BRAD BARKET/GETTY IMAGES

1993: When he admitted his views on women

A 1993 interview that took place on New Zealand TV station Newshub, shows a rare glimmer of self-awareness in 47-year-old Trump and made a mockery of his recent claims that his past 'locker room banter' had no impact on his ability to run for office.

In the 1993 footage, Trump was asked about his image as a womaniser. He replied: "I don't enjoy that image. Yes I have that image. I think women are beautiful - I think certain women are more beautiful than others, to be perfectly honest – and it's fortunate I don't have to run for political office."
1994: When he demanded 'dinner on the table'

In a 1994 interview with ABC News, Trump let rip on his perception of wifely duties.

"I have days where, if I come home — and I don't want to sound too much like a chauvinist," the presidential candidate said, "but when I come home and dinner's not ready, I go through the roof."

He was married to Marla Maples at the time. In the same interview, he compared women to buildings and added that he gets bored when they become successful :

"I think that putting a wife to work is a very dangerous thing," said Trump. "Unfortunately, after they're a star, the fun is over for me. It's like a creation process. It's almost like creating a building. It's pretty sad."

ABC Breaking News | Latest News Videos

1997: When he said all women are gold diggers

From seminal tome Trump: The Art of the Comeback on prenuptial agreements:

"There are basically three types of women and reactions. One is the good woman who very much loves her future husband, solely for himself, but refuses to sign the agreement on principle. I fully understand this, but the man should take a pass anyway and find someone else.

"The other is the calculating woman who refuses to sign the prenuptial agreement because she is expecting to take advantage of the poor, unsuspecting sucker she's got in her grasp. There is also the woman who will openly and quickly sign a prenuptial agreement in order to make a quick hit and take the money given to her."


Donald Trump's wife Melania CREDIT: DAVID GOLDMAN

1997: When he bought Miss USA

Trump purchased the beauty pageant in 1997, and told Howard Stern: "They said, 'How are you going to change the pageant?' I said 'I'm going to get the bathing suits to be smaller and the heels to be higher'."

He later added: "If you're looking for a rocket scientist, don't tune in tonight, but if you're looking for a really beautiful woman, you should watch."
1997: When he said he'd have 'nailed' Princess Diana

In the same Stern interview that he discussed buying Miss USA, Trump also responded to a question about Princess Di.

"Why do people think it's egotistical of you to say you could've gotten with Lady Di?" Stern asked him. "You could've gotten her, right? You could've nailed her."

"I think I could have," Trump said.


1999: When Trump joked about dating girls under 17

In 1999, according to the New York Daily News, Trump said he'd promised his daughter, Ivanka, that he'd never date anyone younger than her:

"I have a deal with her. She's 17 and doing great ― Ivanka. She made me promise, swear to her that I would never date a girl younger than her," Trump said. "So as she grows older, the field is getting very limited."

At the time, Trump was dating 29-year-old Melania, who would become his third wife. He was 53.
May 2000: When he rated women he wanted to have sex with

Look, Trump said a lot of outrageous things to Howard Stern - we know this. But here's another worth noting. In May 2000, the property mogul ranked famous women he'd like to sleep with, including Princess Diana. "She had the height, she had the beauty, she had the skin — the whole thing," Trump said. "She was crazy, but these are minor details."

The list was:

Melania Knauss (then his girlfriend, now wife)
Ivana Trump (his first wife)
Princess Diana
Michelle Pfeiffer
Cameron Diaz
Julia Roberts
Cindy Crawford
Mariah Carey
Gwyneth Paltrow
Diane Sawyer


2003: When he bragged about his daughter's figure

During an interview with shock jock Howard Stern, Trump said this about his then 22-year-old daughter:

"You know who's one of the great beauties of the world, according to everybody? And I helped create her. Ivanka. My daughter, Ivanka. She's 6 feet tall, she's got the best body. She made a lot money as a model—a tremendous amount"


View image on Twitter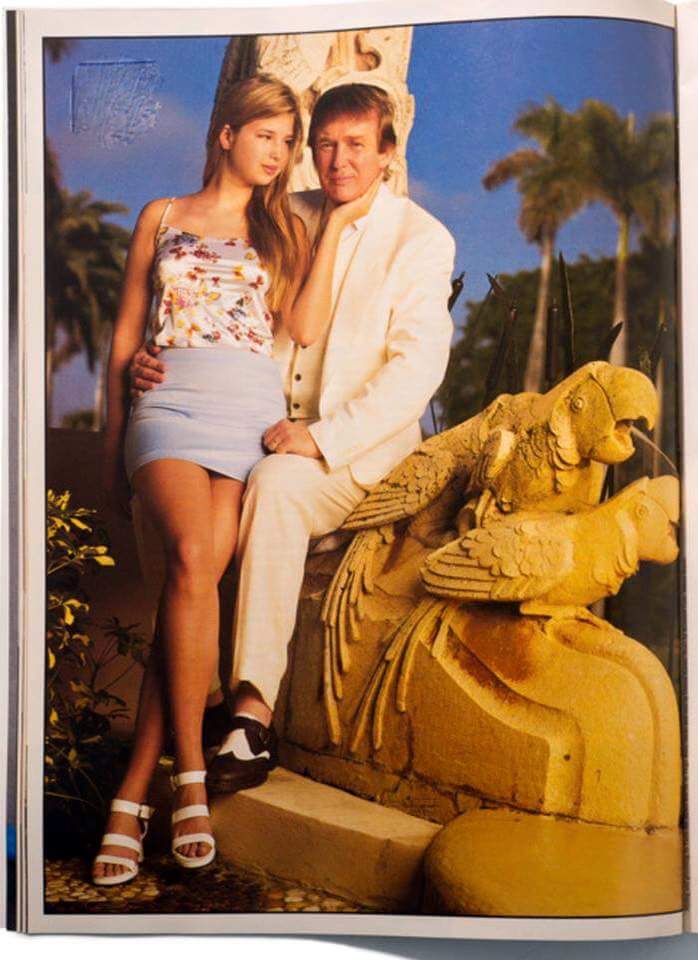 Follow
Tim Ireland @bloggerheads


A picture of Donald Trump, with his daughter Ivanka, perched atop two concrete parrots having sex.
5:29 PM - 31 Jan 2016

7,3477,347 Retweets
6,4416,441 likes



2004: When he said he was irresistible to women

Back in 2004, Trump told the Daily News: "All of the women on The Apprentice flirted with me - consciously or unconsciously. That's to be expected."
2005: When he told a woman she'd 'make a great wife'

According to one woman who appeared on the show, Trump told her: "I bet you make a great wife."

The comment never aired on TV. Can't imagine why - standard job interview stuff, right?
March 7, 2006: When he cracked an incest gag

In the same year that Trump called his daughter Ivanka 'voluptuous' in interview with Howard Stern ...



...he then appeared on TV chat show The View said the infamous words: "If Ivanka weren't my daughter, perhaps I'd be dating her."

A spokesman later said it was a "joke".


2006: When he slagged off Rosie O'Donnell - part one

It's no secret that there's no love lost between Trump and comedian O'Donnell. Perhaps his most notorious rant against her came on American TV show Entertainment Tonight in 2006, when he said: "Rosie O'Donnell is disgusting, both inside and out. If you take a look at her, she's a slob. How does she even get on television? If I were running The View, I'd fire Rosie. I'd look her right in that fat, ugly face of hers and say, 'Rosie, you're fired.'

"We're all a little chubby but Rosie's just worse than most of us. But it's not the chubbiness - Rosie is a very unattractive person, both inside and out."

He also made a jibe at her love life and managed to offend the LGBT community at the same time: "Rosie's a person who's very lucky to have her girlfriend. And she better be careful or I'll send one of my friends over to pick up her girlfriend, why would she stay with Rosie if she had another choice?"
2007: When he compared women to buildings

This appears in his bible of business wisdom Trump 101: The Way to Success:


"Beauty and elegance, whether in a woman, a building, or a work of art, is not just superficial or something pretty to see."

At least our beauty isn't superficial, eh ladies?
2007: When he called Angelina 'not beautiful'

On Larry King's CNN show, Trump addressed Jolie's falling out with her father Jon Voight, saying:

"I really understand beauty. And I will tell you, she's not - I do own Miss Universe. I do own Miss USA. I mean I own a lot of different things. I do understand beauty, and she's not."


Trump said Angelina Jolie was "not beautiful" CREDIT: EVAN AGOSTINI

June 2007: When he pitched 'Lady or a Tramp?'

Yes, really. This was reported to be a reality show, in which '"out of control" party girls were sent to charm school to learn some manners. Because, God forbid a woman should be anything but demure.

Tragically, it was never made.
2008: When he said women 'flip their panties'

In a long conversation with Howard Stern, Trump manages to offend just about every woman going. He says women throw themselves at him: "They'll walk up, and they'll flip their top, and they'll flip their panties."

He claims to be attracted to women who are 'a bit chunky' when Stern asks if he's ever 'reduced himself' to sleeping with a 'fat woman'. Trump also says he's 'been with women with extraordinarily bad breast jobs' and 'pancake tits'.

He adds that any woman who has a breast reduction is 'insane'.


2008: When he called Anne Hathaway a gold digger

When the actress's marriage broke up, following her husband Raffello Follieri's financial and legal troubles, Trump told Access Hollywood:

"So when he had plenty of money, she liked him. But then after that, not as good, right?
2009: 'The Trump rule'

Beauty queen Carrie Prejean wrote about the 'Trump rule' in her book, referring to the Miss USA pageant, of which Trump was co-owner. She claimed that the billionaire had the girls parade in front of him so he could separate those he found attractive from those he didn't.

She wrote: "Many of the girls found this exercise humiliating. Some of the girls were sobbing backstage after [he] left, devastated to have failed even before the competition really began . . . it was as though we had been stripped bare."


Donald Trump was co-owner of the Miss Universe Organisation CREDIT: REUTERS

November, 2010: When he asked men to rate women

According to a report in the New York Post, former female contestants on the show complained that Trump consistently objectified women.

Mahsa Saeidi-Azcuy claimed: "So much of the boardroom discussion concerned the appearance of the female contestant - discussing the female contestants' looks - who he found to be hot.

"He asked the men to rate the women - he went down the line and asked the guys, 'Who's the most beautiful on the women's team?'"

Gene Folkes, a 46-year-old financial adviser, said: "I think it was most uncomfortable when he had one [female] contestant come around the board table and twirl around."
2011: When he called breastfeeding 'disgusting'

Trump was in court testifying in a deposition over a failed Florida real estate project when lawyer Elizabeth Beck asked to take a break to breastfeed her three-month old daughter.

Trump and his team objected, so she pulled out her breast pump to prove it. In an incident that the Republican presidential candidate "does not dispute", he walked out of the room, telling Beck she was "disgusting".
Trump declares his love and respect for womenPlay!01:08


2011: When he called a female journalist a 'dog'

After New York Times columnist Gail Collins wrote about rumours of Trump's bankruptcy, he sent her a copy of her own article, with her picture circled and "the face of a dog!" scrawled across it.
April 3, 2012: When he joked about his penis

In 2012, transgender Miss Universe contestant Jenna Talackova was kicked out of the contest for not having declared her trans status in her entry (the pageant does now accept trans people). Talackova's lawyer, Gloria Allred, angrily said that no one had asked Trump to "prove" he was a man by showing his anatomy.

In response, Trump called in to TMZ Live and said of his penis: "I think Gloria would be very impressed."
May 11, 2012: When he criticised Cher

In 2012, the singer criticised Trump's friend and right-wing politician Mitt Romney. His response? To attack her appearance, of course.
August 28, 2012: When he insulted Arianna Huffington
H

uffington Post editor and co-founder Arianna Huffington is a regular target of Trump's. But instead of attacking her liberal views, he tends to criticise her looks and make jokes about her divorce.
February 2013: When he made an awkward sex joke about Ivanka
A

tape of Trump's appearance on The Wendy Williams Show from 2013 has emerged, in which he cracks an inappropriate gag about his daughter (again). Asked by Williams what she and her father had in common, Ivanka replied "either real estate or golf."
Her father? He said: "Well, I was going to say sex, but I can't relate that to her" - pointing at his mortified daughter.
March 2, 2013: When he slagged off Rosie O'Donnell - part two

March 3, 2013 : When he talked oral sex

Former Playboy playmate Brande Roderick was a contestant on Celebrity Apprentice in the US. During a tense boardroom battle, she knelt in front of Trump – who takes the Alan Sugar role – to ask him whether she could be the next project manager.

After a six-second silence (an eternity on TV), during which Trump presumably willed some blood to return to his head, he said: "It must be a pretty picture. You dropping to your knee."

Because isn't that a woman's place in the boardroom – on her knees?
May 7, 2013: When he blamed sex assault on cohabitation

Rather than, say, questioning why so many assaults go unreported or why so few perpetrators are brought to justice. Nope, it must be down to the fact that women and men just can't share the same living quarters.

2015: When he did a u-turn on abortion

Having previously supported the pro-choice lobby, Trump has now changed his stance on abortion to fit in with the Republican party. He's also said he'd be willing to shut down the US government to defund non-profit reproductive health organisation Planned Parenthood.

He told the Des Moines Register: "In thinking about it over the years, I've had instances, and one instance in particular, a friend had a child who they were going to abort, and now they have it, and the child is incredible. And the man, he changed his views also because of that."
April 7, 2015: When he called Arianna Huffington ugly - part two

April 16, 2015: When he said Hillary couldn't 'satisfy'

…and therefore couldn't satisfy America, in a thinly veiled reference to Bill Clinton's affair with Monica Lewinsky.

Where most of Trump's sexist tweets remain, this one has mysteriously disappeared from the social media site. His office said one of the 10 staff who runs his Twitter account was responsible.


Journalist Megyn Kelly recently hosted the first Republican debate of the US presidential campaign and gave Trump a tough time over previous accusations of sexism against him (really, we can't imagine why).

After the debate, Trump responded by seeming to call her a "bimbo" on Twitter.

And in a later CNN interview, he suggested her questioning was a result of her menstruating: "You could see there was blood coming out of her eyes. Blood coming out of her wherever." Trump has denied this was his intention.
August 16, 2015: When he called Heidi Klum fat
I

n an interview with the New York Times, Trump said of the German supermodel: "Heidi Klum. Sadly, she's no longer a 10."

September 9, 2015: When he insulted Carly Fiorina

Carly Fiorina is the former Hewlett-Packard boss and Trump's Republican candidate rival. According to Rolling Stone magazine, he said: "Look at that face. Would anyone vote for that?

"Can you imagine that, the face of our next next president? I mean, she's a woman, and I'm not supposed to say bad things, but really, folks, come on. Are we serious?"
November 10, 2015: When he insulted Fiorina - part two

Trump singled out his female Republican rival for a dressing down, ignoring the fact that his male counterparts were also talking over one another.

His comment - "Why does she keep interrupting everybody?" - was immediately called sexist on social media.

At least, this time, Trump managed not to respond on Twitter himself or call the woman in question a "bimbo". #Winning.

March 30, 2016: When he said abortion was 'punishable'

Trump caused mass outage after advocating "some form of punishment" for women who have abortions if the practice is banned (which it likely will be if he gets his way).

The Republican front-runner said he has "evolved" on the issue of abortion. He was pro-choice for years before changing his position and backing a ban. He believes the Supreme Court ruling legalising abortion should be overturned and that individual states should be allowed to ban it. His campaign said he believes abortion should be legal only in instances of rape, incest or when the life of the mother was at stake.

"There has to be some form of punishment," he told MSNBC, referring to women who would seek to defy the ban.

Trump reversed his position two hours later, with a statement saying that he would punish doctors who performed abortions but not the women themselves.

Well that's alright then.

May 8, 2016: When he called Clinton an 'enabler'

After Clinton criticised his stance his stance on women's issues, Trump hit back the only way he knows how: by accusing her of being an "enabler" of her husband's affairs by destroying the lives of his mistresses.


At a rally, he said: "Bill Clinton was the worst in history and I have to listen to her talking about it?" he said in Eugene, Oregon. "Just remember this: She was an unbelievably nasty, mean enabler.

"And what she did to a lot of those women is disgraceful. So put that in her bonnet and let's see what happens."

And on May 17, Trump tweeted:

May 18, 2016: When he 'apologised' to Megyn Kelly

Nine months after suggesting Fox presenter Megyn Kelly was menstruating after she took him to task over previous sexist
comments, the Republican candidate apologised. Or tried to. When asked about calling Kelly a "bimbo", Trump replied: "Did I say that? Excuse me."

But he couldn't resist adding another jibe: "Over your life, Megyn, you've been called a lot worse, wouldn't you say?"


Charming.
September 26, 2016: The first televised presidential debate


It escaped almost no one's notice that Trump constantly interrupted Hillary Clinton (25 times in the first 26 minutes), talked over her and mansplained. It was painful to watch.

And that's before he questioned Clinton's health when she was suffering from pneumonia last month, saying: "She doesn't have the look. She doesn't have the stamina."

For which read: 'She's not strong enough to cope with the job.' And that's before dissecting what a 'presidential look' is for a woman in Trump's mind. Coming from a man who - as we've seen - likes to comment on women's physical attributes, it's pretty un-presidential stuff.

September 27, 2016: When he hinted at 'rough attacks'

After the first debate, Trump congratulated himself on not bringing up Bill Clinton's "sexual indiscretions" and hinted that he was considering "rough attacks" on Hillary and her family in the near future.

"I was going to hit her with her husband's women and I decided I shouldn't do it because her daughter was in the room," he told Fox News.

His comments were widely interpreted as a threat to bring them up in future debates. Asked if that would expose him to attacks about his own marital history, the twice-divorced Mr Trump said: "No not at all, I have a very good history."

September 30, 2016: When he called a woman 'Miss Piggy'

This one actually dates back to 1996. But in the early hours of the morning, in September 2016, Trump posted a series of comments on Twitter continuing his attack on the former Miss Universe winner and Venezuelan actress Alicia Machado.

Machado's name had been raised by Hillary Clinton, during the first Presidential debate, when she accused the Republican candidate of having called the model "fat". Miss Machado has claimed Mr Trump called her "Miss Piggy" and "Miss Housekeeping".

Mrs Clinton said the model had recently become a US citizen and "you can bet she's going to vote in November".

Having initially asked "Where did you find this?", Trump has since refused to back down, saying Machado had increased in weight from 118 pounds to more than 160 pounds: "She was the winner and she gained a massive amount of weight, and it was real problem for us."

America work up on Friday morning to a series of tweets, in which he claimed the model had starred in a sex tape - something for which there is no evidence. Clinton hit back, calling Trump "unhinged" and asking: "What kind of man stays up all night to smear a woman with lies and conspiracy theories?"